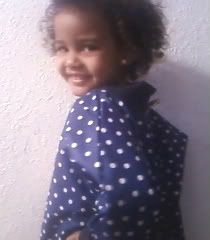 American Pride runs full strength in my blood. I am all about the stars and stripes and fyi if I see that on a product it makes it more tempting to buy.. LOL When I was contacted to do a review of a product from
http://www.breyla.com/
she asked what I would consider reviewing and my kids ages. That was it. I told her I couldn't pick between all the goodies and just send me something to suprise me!
Featured to the left is my daughter doing her over the shoulder pose!
When I first opened it, I swear I just about fell in love!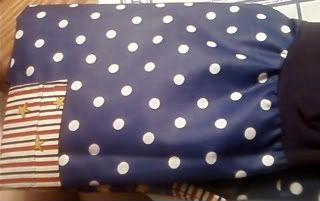 From the post title you know I was sent a
Children's Fabric Art Smock
from
http://www.breyla.com/
. As you can see it is blue.. (my favorite color FYI, if you can't tell by my site design) but my eyes were immediately drawn to the red, white and blue stripes pocket! Now mind you I had NO CLUE WHAT I WAS GETTING or what it was when I opened it.. Had I not gotten overly excited and read the paper she included I would have known what it was lol..
This really was a great surprise and such a treat for my kiddos.

They are made of comfortable cotton, soft collars (at the neck and arms) with a little slack so you don't have to deal with the grumpy kids saying its tight on the neck and arms while trying to put it on or take it off.

It also has two front pockets.. One is stars and stripes as you see in the picture above and the other is a blue shimmery sky and yellow stars.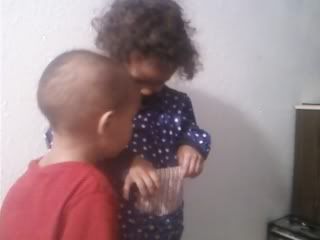 (baby brother had to take a peek too)

It also features a front hook for the kiddos paint brush as well as a back hanging hook for easy storage or to hang dry (or hang in the tub because they lathered it in paint lol). Machine washable and tumble dry.

They come in size X-Small, Small, Medium and Large.

Price is $24.95

$5 FLAT RATE SHIPPING ON ALL ORDERS!!

Guest page features 25% off your new customer order and periodically a FREE contest to win some goodies..
Sign up for their newsletter here to receive once a month contact:
- Special offers for subscribers only

- New product updates

- Close-out and discount offers

- Helpful Parenting Tips

- Discount coupons

& much more

Breyla features Boys & Girls clothing, kids extras, gifts and newly added items for MOM & DAD!! Special offers too!! Be sure to stop by and check them out!
Smock featured on site: