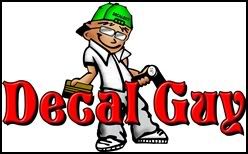 www.DecalGuy.com announces…

Anyone can Order online!

Decal Guy
is locally owned and operated by retired Army Veteran, Mark Hopkins. He knows firsthand how important it is to support our law enforcement, fire departments & military soldiers (anyone that serves to protect). It is important for communities and families to show their support. A car window decal exemplifies support and can help the community and families together in their healing process.
Visit
http://www.decalguy.com/
where you can:
 Place an order for up to 5 In Memory of 4" x 4" full color print decals
 Limit 5 per customer per each officer
 (S/H not included)
 Offer open Nationwide
Email Mark -
decalguy@comcast.net
for a custom decal to be made for any fallen service member. This includes any law enforcement officers, fire departments or military soldiers.
All News & Media outlets are asked to contact decalguy@comcast.net direct.
Call Mark Hopkins for more information 360-888-5643.
PR Contact:
Angela@mommypr.com
Decal Guy-
http://www.decalguy.com/
All Your Sign Needs -
http://www.allyoursignneeds.com/