Handmade and homemade products are my absolute favorite way to make my purchases.
AllysRosieCreations is a small business full of great products for relaxation and cozy/comfy items.
I got a box of goodies from them recently and you can check out my review here.
So today I am doing a $15 gift card giveaway allowing you to pick anything you want!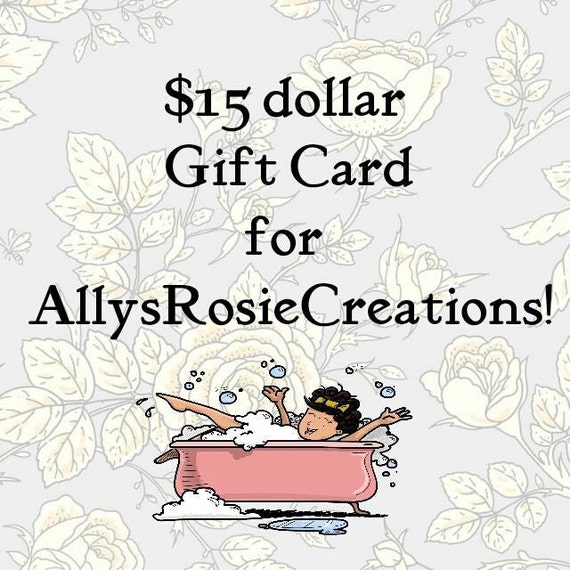 Here are a few of my favorite items in her shop





AllysRosieCreations came to life in the fall of 2015, before this time I was a 23 year old girl who worked a full time job plus working my Young Living business on the side. In August 2015 my husband and I were married and found out we had a baby on the way! So I quit my job and decided to stay home. I enjoyed making all natural products so I browsed the internet a lot looking for new things I could create and that's how I found and started making homemade bath bombs!

They were so much fun to make and I enjoyed it so much I decided to start selling them. First it was just to my family and friends and they enjoyed them so much I decided to open a Etsy shop to see if I could get any business from there. To my pleasant surprise it BOOMED! I opened my shop on December 28th 2015 and within a month I had 23 sales and 9 five star reviews! (HUGE shout out to my awesome customers btw, I obviously couldn't have done it without them haha. ;)

Our baby girl is due in April of 2016 and I plan to be a stay at home mom and homeschool so I am going to use this little home business as extra income and the opportunity to spend more time with my family. <3 I want to thank YOU and thousands of others for supporting small, home businesses. Not only are you getting a beautiful handmade item when you order from a Etsy shop but you are helping fill a families needs and making dreams come true! :) I've just got to say it has been a joy ride so far and I look forward to the road ahead!




Xoxo ~Ally
Rules for the giveaway:
Each entry must have an individual comment here to be credite.
US Residents Only
Giveaway will end April 14 at midnight CST
"Favorite" AllysRosieCreations shop on Etsy - post a comment here that you did so
"like" her page on facebook - post a comment here that you did so and post a comment on her page for an additional 2 entries (comment on this post to get credit)
Comment on this post with a link to what you might buy with your gift card.
Share this post on social media up to twice a day per platform and share the links individually in a comment for an additional entry.
Please visit www.CreationOfMiracles.com for more Faith, Fun and Finds.
I was not compensated for this post. I did receive free product for my review.
**All information provided for reviews is my honest opinion. Any specific details are provided by the company/website. Please see links for more details. This blog is not endorsed by any company or website.**