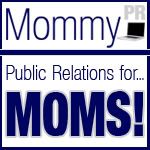 OK, Mommy PR has been teasing us about a surprise she has... Before it was a personal blog, a forum, HUGE March giveaway and etc etc etc... This time she says it HUGE and just STRESSED the awesomeness for about a week now... I wear my heart on my sleeve with Mommy PR because they have an awesome team and are very well known for their honestly and "bigness" (good things, fun things) SOOO in short, I couldn't wait.
TODAY THE SURPRISE CAME!
Just like in the shopping world, when find a new store or great sale you get super excited. In the blogger world seeing new connections and collabs typically means good things for the readers (plus excitement for the blog is YIPEEE)
So Mommy PR collab's with Sears Outlet AND opens an offer for 11 new bloggers to review the Sears products if you are local to a store.YEEEAA I'm local and I put in my
application
to be a Sears Outlet Signature Power MOM.. Now one of the reasons I don't work outside of the home is the dreaded application process, THIS IS AN APP WORTH FILLING OUT!
Pending review!!!!! YEA
Here are some overviews:
Tacoma ,WA Overview by Angela
Nashville , TN Overview by DawnS
Cincinnatti, OH Overview By Andrea

** I was not paid in any fashion for this post. I am sharing a great post and great opportunity for other bloggers **